Gift Ideas For the Holidays 
Last year we put together a quick guide of easy suggestions for the music collector. That one surely still applies and can be viewed here: Gifting Holidaze

Please send your loved ones in with a list of desired music and we'll be happy to help them out. Here's the expert level to this one (the person giving you the gift would have to be at expert level): have the loved one come in and ask us for a recommendation based on some of what you already have in your collection (expert level is achieved when gift giver knows what you already have in your collection). Of course, returns and exchanges are accepted on all new unused/unopened LPs as well (returns must be accompanied with receipt).


The old stand-by, the Gift Certificate, is a fine choice as well. We can make it out for any amount you'd like (USD only; $55.00 or $55.25 or $50.52 or $2.55 or $5525.00 or anything at all you can think of like $32.00 or $30.20 or $23.00 or $2.30 or $32,000.00 for instance).
If you're looking for a gift for the vinyl aficionado in your life, but don't want to risk getting something that person may already have there are always vinyl care materials. No collection is complete without complete care. Plastic sleeves help to keep moisture out and self-wear away.  A record cleaning kit to brush the dust off of any record that has been accumulating a bit of dust. A new slip mat perhaps because the old one has seen it's fair share of use.
3ML $18.98 4ML $23.98 (100 Pack)
RCA Cleaning Kit $16.98, Slipmat $12.00
Spin-Clean Record Washer MKII $55.00
And we have a nice selection of used and new record players from $65 (a few used ones at this price) to $400 (Rega RP1) and lots in between.
And, of course, who doesn't love a nice Redscroll Records T-Shirt for $12?!
(Or a Hartford Party Starters Union shirt for $16 or a Needle Drop shirt for $15?!) 

Here's a picture of our door with the penguin wreath:
 And here's the books we sell that range from used novels of fiction to Hardcover documentations of specific music scenes/genres/…

And here's our front counter littered with santa hats: 

Whatever it is you celebrate and whoever you celebrate it with we hope it is a super mega blast! If you don't celebrate at all we respect that and wish for you a super mega blast to come at no specific time!


Happy Holidaze from Redscroll Records
and some of our extended family: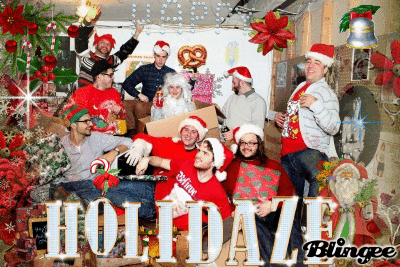 (Left to Right, Front to Back:Sean, Mario, John, Ben, Kevin, Al, Jack, Josh, Rick, Luc; Not Pictured: You! Please insert yourself using blingee! If you

actually do that it would rule and please send it to us immediately.

)