WFMU Benefit Record & CD Fair!
WFMU was named "Best Radio Station in the Country" by Rolling Stone magazine for four consecutive years.

 

Some fans of the station include: Velvet Underground founder Lou Reed, The Simpsons creator Matt Groening, filmmaker Jim Jarmusch and playwright Eric Bogosian, Neutral Milk Hotel frontman Jeff Mangum, Kurt Cobain, Led Zeppelin lead singer Robert Plant, Sonic Youth guitarists Lee Ranaldo and Thurston Moore, and many more. 
The station also helps out the community and fellow radio stations.

 

WFMUbegan voluntarily hosting the webcast of legendary New Orleans jazz music station, WWOZ, when its studio and transmitter were destroyed in the wake of Hurricane Katrina.

 

WFMU took donations for the WWOZ and raised over $70,000. 
In the destruction of Hurricane Sandy WFMU was hit pretty hard.

 

They lost a lot of equipment and had to cancel their annual record fair.

 

The fair is one of their major sources of funding.  In effort to help out the station a record swap is being held (organized by our friend, Malcolm Tent of Trash American Style):

 
Sunday, December 9 at Bar 82. Bar 82 is located at
136 2nd Ave, in Manhattan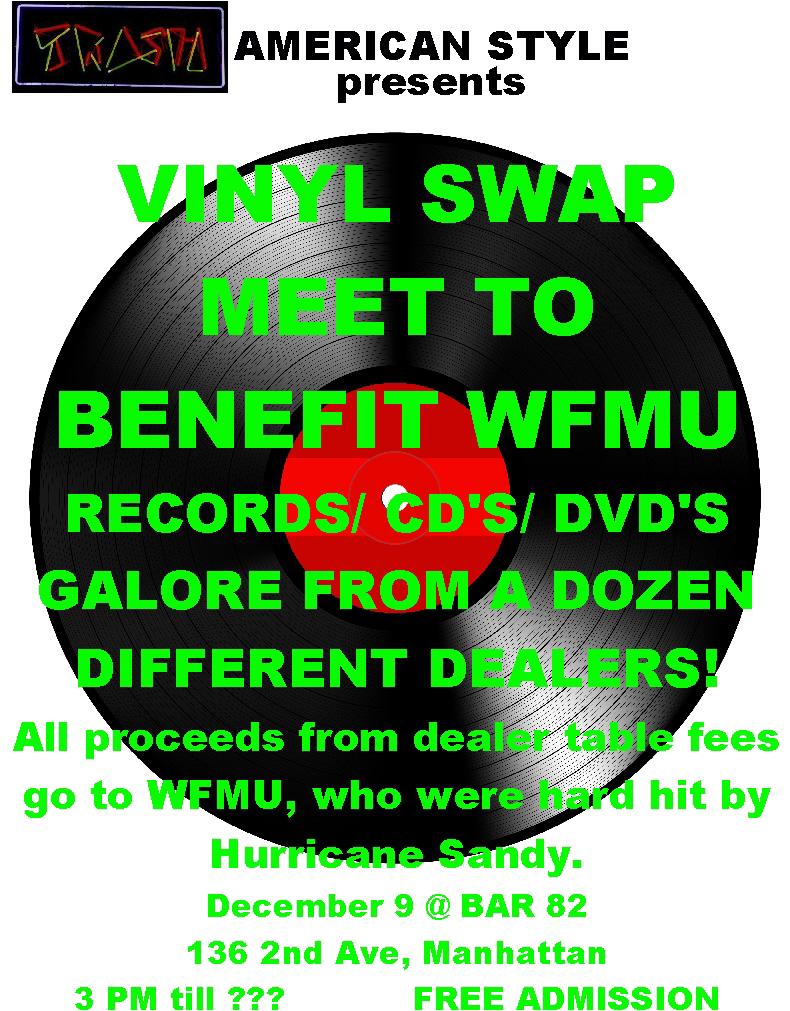 The swap starts at 3 PM and goes until "???"

 
Come help support a good cause!