12th of July 2013 Update of New and Key Restocked Items + Reviews
at Redscroll Records
Hey all, we got new T-Shirts in today. They are super limited (we had 50 in total – some have been sold already; S-XXL only and we'll not be reprinting these three color works of art). Printed on Next Level brand shirts (they're nice) and merely $15!  We'll put some for sale on the internet (on our website) in the next couple days for those out of range interested. For those in the area I'd suggest coming by and rocking this with regularity.
LPs & 12″s
______________________
A Great Big Pile Of Leaves    "You're Always On My Mind"
Algebra Suicide    "Faminine Squared"
Atoms For Peace    "Before Your Very Eyes…"
Baths    "Obsidian"
Big Business (Big Biz)    "Quadruple Single"
Black Flag    "Nervous Breakdown" 10″
Black Flag    "Everything Went Black" (2LP)
Black Flag    "The First Four Years"
Black Flag    "Slip It In"
Black Flag    "Loose Nut"
Brainbombs    "Singles Collection 2" (2LP)
Candy Hearts    "Everything's Amazing & Nobody's Happy"
Coley, Byron    "Dating Tips For Touring Bands"
Cookie Duster    "When Flying Was Easy"
Detroit Swindle    "The Passion EP"
Dirty Beaches    "Badlands" (+ D/L)
Discharge    "Apocalypse Now"
Envy    "Invariable Will, Recurring Ebbs And Flows" (14LP Box Set + DVD + Book + D/L)
Express Rising    "Express Rising"
Gauntlet Hair    "Stills" (+ D/L)
Gold Panda    "Half Of Where You Live" (2LP + D/L(
Grass Widow    "Past Time"
Gravelroad    "The Bloody Scalp Of Burt Merlin"
Harms Way    "Blinded"
Have Heart    "Songs To Scream At The Sun"
Houndstooth    "Ride Out The Dark" (+ D/L)
Isis    "Celestial"  (2LP Remastered Reissue 2013 New Artwork)
James, Trinidad    "Don't Be S.A.F.E. (Sensitive As F*** Everyday)"
Keene, Tommy    "Strange Alliance"
Kills, The    "Live At Third Man Records 10-10-2012"
Leatherface / Hot Water Music    "Leatherface Together With Hot Water Music: BYO Split Series Volume I"
Lonely Island, The    "The Wack Album" (180 Gram + D/L)
Los Microwaves    "Life After Breakfast" (LP+DVD)
Lynch, David    "The Big Dream" (2LP + 7″ + D/L)
Mickey And The Soul Generation    "Iron Leg: The Complete Mickey And The Soul Generation" (3LP)
Mixtapes    "Ordinary Silence"
Moxiebeat    "Moxiebeat" (Picture Disc)
Mugwump    "Boutade"
Mu-Ziq    "Chewed Corners" (+ D/L)
Neil, Fred    "Fred Neil" (180 Gram)
Peach Kelli Pop    "Peach Kelli Pop"
Pollard, Robert    "Honey Locust Honky Tonk" (+ D/L)
Polysick    "Under Construction"
Proper, San    "Animal" (2LP)
Q4U    "Q1 Deluxe Edition: 1980-1983"
Rhythm & Sound    "What A Mistry"
Russian Tsarlag    "Gagged In Boonsville"
Seasick Steve    "Live At Third Man Records 10-26-2012"
Shins, The    "Live At Third Man Records 10-06-2012"
Sinners & Saints    "The Sky Is Falling"
Siskind, Sarah    "Covered" (+ D/L)
Sleeping Bag    "Women Of Your Life"
Soft Metals    "Lenses" (+ D/L)
Teenage Guitar    "Force Fields At Home" (+ D/L)
Various    "The Great Gatsby: Deluxe Vinyl Edition Music From Baz Luhrmann's Film" (2LP Gatefold Standard Vinyl)
Xes    "Change" (LP+DVD)
Various    "Eccentric Soul: The Bandit Label" (3LP Box Set)
7″s
______________________
A Wilhelm Scream    "Number One"
Altercation    "Altercation"
Antwon    "Dying In The Pussy"
Axis:Sova    "Past The Edge / Grading On A Curve"
Black Flag    "Nervous Breakdown"
Black Flag    "TV Party"
Dead Weather, The    "Hang You From The Heavens"
Destruction Unit    "Two Strong Hits"
Helvetia & Built To Spill    "Spooky Action At The Sufferbus" (Clear Flexi Disc)
La Luz    "Brainwash"
Manateees    "Destruktor"
Nude Beach    "What Can Ya Do / I'm Giving Up"
Pink, Ariel & Jorge Elbrecht    "Hang On To Life"
Smith Westerns    "Varsity"
Snakes    "Waking Up And Decomposing"
Upper Hand    "Chains Of Shame"
Woods    "Be All Be Easy / God's Children"
XX, The    "Fiction"
CDs
______________________
Autopsy    "The Headless Ritual"
Corsano, Chris    "Cut"
Earth Dies Burning    "Songs From The Valley Of The Bored Teenager (1981-84)"
Gauntlet Hair    "Stills"
Harms Way    "Blinded"
Jay-Z    "Magna Carta Holy Grail"
Lycus    "Tempest"
Lynch, David    "The Big Dream"
Mu-Ziq    "Chewed Corners"
Soft Metals    "Lenses"
Books
______________________
HRVST: YOUTH
Life Is Suffering: Two Weeks On The Road With Into It. Over It. (Hilary J. Corts; + 7″ by Into It.Over It.)
Reviews
_____________________
Grabass Charlestons Dale & The Careeners
(No Idea)


I first heard this Gainesville, Florida punk quartet on Fat Wreck's "Protect" benefit compilation in 2005: several months ago, they finally released their third album. Their name may induce giggles, but for this album's thirty-five-and-a-half minute running time, the Grabass Charlestons are all about solid, spirited sunny-day punk (with a hint of classic rock,) like a more melodic and less "hardcore" Dillinger Four. The album appears to have a theme of being reborn as "The Careeners" singing about characters Dale and Cassandra struggling through drug addiction: a subject that I wouldn't expect from such a feel-good sound.  My favorites include the beaming opener urging to "shine on" through "Stormy Weather," as well as mid-tempo "Apocalypse Whenever," with shouted verses that reminded me of Against Me!'s style.
[Reviewer: Mark]
Lustmord The Word As Power
(Blackest Ever Black)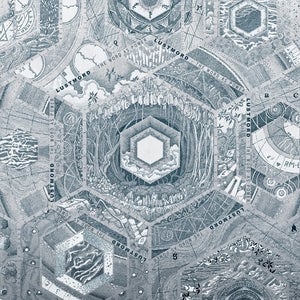 Bleak atmospheres with lush soothing feminine singing. If you grew up Catholic you might even feel nostalgic for you (though not directly). I grew up Catholic. This is soothing and cathartic and not actually Catholic in any respect.
[Reviewer: Rick]
Old Time Relijun Songbook Vol. I [Reissue]
(Northern Spy)


Formed in Olympia, Washington in 1995, this currently Portland, Oregon-based experimental band plays a dizzy mix of noise rock, art rock and no wave. This album is a reissue of their 1997 debut, which also includes eleven songs in their original four-track recorded versions. Old Time Relijuns's members at the time were Arrington de Dionyso (5-string guitar, vocals, bass clarinet, alto saxophone, etc.) with Aaron Hartman on string bass and Bryce Panic on percussion. Their raw, funky brand of avant-garde kicks off with "Sabertooth Tiger," using a memorable beat and bass melody, with Dionyso's jagged, drifting voice bringing it all together. Another track, "Fig," moves into straight-up jazz territory with both cool bass plucking and screeching sax. The whole experience is certainly an interesting ride for those who like uneasy listening.
[Reviewer: Mark]
As ever, if you're viewing from a non-drivable distance please check what we have for sale (these titles and more) at http://www.discogs.com/seller/Redscroll